It's winter. Please be sure others can see you at night. I wear a reflective vest. This is from the Sitka walkers.
November 30, 2013 by sitkaoutdoorrecreationcoalition
Sitka is lucky because our mild climate allows most of us to bike and walk throughout the winter. But cyclists and walkers also need to take care to make sure they can be seen by drivers, especially since there is so little daylight this time of year.
Take a look at the photo on the right (you can click on it to enlarge the photo). Can you see the cyclist? This cyclist just rode through one of Sitka's best-lighted intersections (Lincoln Street and Lake Street), but he's wearing dark clothes and you can't see him even though he does have a working taillight. By the way, the cyclist is in the right center of the photo, between the car's taillights and the fire hydrant, near the Moose Lodge parking lot.
____________
Updated November 27, 2013 7:23 AM
(UNDATED) – An Indiana blogger was named "Ambassador of the Year" by America's State Parks for promoting the outdoors to other young adults.
Lance Gideon was one of eight volunteer bloggers from Indiana who wrote for the America's State Parks Youth Ambassador program, documenting their experiences at Indiana's state parks for the ASP website, AmericasStateParks.org.
__________________
Beware the day trip!
Associated Press
MOUNT RAINIER NATIONAL PARK — A hiker who didn't return home from a day trip to Mount Rainier has been found.
---
Mount Rainier National Park spokeswoman Lee Snook said the hiker, an Everett man, walked out of the area on his own shortly after noon on Wednesday. The hiker didn't have any injuries, but she said it wasn't clear why he had stayed out overnight in the park.
_______________
By Meher McArthur, Ledger Columnist
Three decades ago, the new wave pop band Missing Persons released "Walking in L.A.," with the lyrics "Nobody walks in L.A."—a catchy song that became an embarrassing anthem for our car-dependent city.
Fortunately, since then Los Angeles has changed its tune slightly and is rediscovering its multi-modal roots.
New metro lines have improved public transit, more roads have bike lanes, and the city is increasing its pedestrian-friendly zones.
"We still have a long way to go though," said Deborah Murphy, founder of L.A. Walks and Chair of the City of LA Pedestrian Advisory Committee.
A Silver Lake resident, Murphy has worked for many years to make the city friendlier to pedestrians.
"Everyone's a pedestrian," she said. "Once you get out of your car or get off your bike, you're walking."
_________
Would if we could…or they could…environmentalism does have effect. If only we didn't need the oil…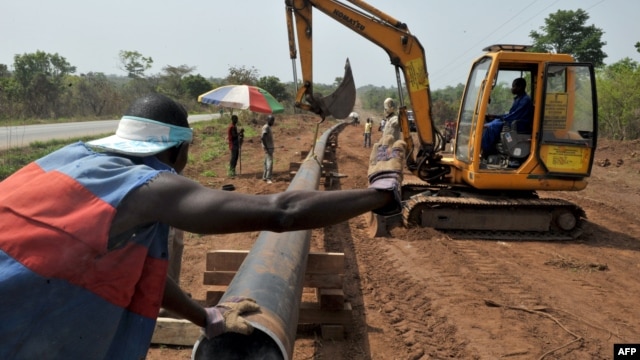 FILE – Workers of Ivory Coast Kuyo pipeline company assemble pipelines in Tiebissou, near Abidjan, the economical capital of Ivory Coast.
Reuters November 28, 2013
CAPE TOWN — East Africa's oil rush is spreading into parks and protected areas, prompting companies to develop new ways to explore for hydrocarbons without disturbing wildlife and natural treasures such as rare fossils.
____________
Santa Barbara View's outdoor editor John McKinney, aka the Trailmaster, has released a new book in time for the holidays titled, COAST WALKS: Santa Barbara; Best Beach Walks and Coastal Hikes.
"These are my home shores and I'm delighted to share my favorite beach walks, bluff-top rambles and coastal hikes," says John in his blog about the new book. "COAST WALKS: Santa Barbara is a collection of time-tested classic walks long enjoyed by my family, friends and fellow Santa Barbarans, as well as newer adventures worthy of your time and attention.
Santa Barbara County offers miles of pleasant sand beach with the ocean and islands on one side and the mountains on the other. Many of the county's beaches are lined by narrow coastal terraces that have the effect of protecting them from the hustle and bustle of modern life.
- See more at: http://www.santabarbaraview.com/coast-walks-in-santa-barbara542554/#sthash.PIDTcobV.dpuf